Welcome to the SIYB Nepal Secretariat. Start and Improve Your Business (SIYB) is an enterprise development programme designed by the International Labour Organization (ILO) to create and promote micro enterprises. ILO has implemented the SIYB programme for more than three decades in over 100 countries.  The ILO, with support from United Nations Development Programme (UNDP) has adapted the SIYB programme to meet the needs of Nepal's micro enterprise sector. First implemented by the Micro Enterprise Development Progamme (MEDEP) in 2001, SIYB L1 is suitable for everyone and has become a popular training package thanks to a well-designed pictorial game method.
The SIYB L1 has improved thousands of lives in Nepal through its sustainable and inclusive training programme.
Since 2001, SIYB L1 has been implemented in over 65 districts across Nepal, especially in rural settings to better ensure all Nepalese people receive equal opportunity to develop their entrepreneurial skills.
The SIYB Nepal Secretariat is responsible for the overall management and administration of the SIYB programme in Nepal, and provides the following services:
---
SIYB master trainers are the heart piece of the ...
Read More
---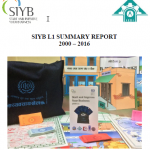 Download a copy of the SIYB Nepal Secretariat Summary Report 2000-2016 ...
Read More